Antimony
| Isotope | Atomic mass (Da) | Isotopic abundance (amount fraction) |
| --- | --- | --- |
| 121Sb | 120.903 81(2) | 0.5721(5) |
| 123Sb | 122.904 21(1) | 0.4279(5) |
In the early 1960s, the Commission assessed that an average value of Ar(Sb) from chemical determinations was 121.75, whereas mass-spectrometric determinations yielded 121.76. The chemical value was evidently given a preference when in 1969 the Commission recommended Ar(Sb) = 121.75(3).
In 1989, the Commission adopted Ar(Sb) = 121.757(3) based on new mass-spectrometric measurements. This estimate was further revised to Ar(Sb) = 121.760(1) in 1993, based on more calibrated mass-spectrometric determinations.
Although no evidence of isotope fractionation of antimony in any of the terrestrial materials has been found, the "g" annotation is due to isotopic anomalies identified in the Oklo uranium deposit at Gabon, south-west Africa.
SOURCE Atomic weights of the elements: Review 2000 by John R de Laeter et al. Pure Appl. Chem. 2003 (75) 683-800
© IUPAC 2003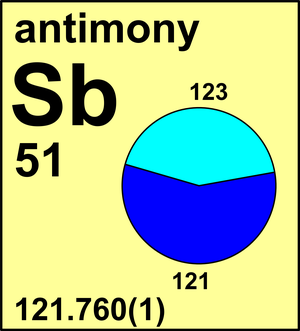 CIAAW