Tellurium
| Isotope | Atomic mass (Da) | Isotopic abundance (amount fraction) |
| --- | --- | --- |
| 120Te | 119.904 06(2) | 0.0009(1) |
| 122Te | 121.903 04(1) | 0.0255(12) |
| 123Te | 122.904 27(1) | 0.0089(3) |
| 124Te | 123.902 82(1) | 0.0474(14) |
| 125Te | 124.904 43(1) | 0.0707(15) |
| 126Te | 125.903 31(1) | 0.1884(25) |
| 128Te | 127.904 461(6) | 0.3174(8) |
| 130Te | 129.906 222 75(8) | 0.3408(62) |
In 1961, the Commission adopted Ar(Te) = 127.60 based on the chemical-ratio determinations. In the absence of calibrated mass-spectrometric measurements, the value of Ar(Te) = 127.60(3), adopted in 1969, has been retained as the standard atomic weight of tellurium.
123Te, 128Te, and 130Te are radioactive; the minor isotope 123Te has a long half-life of 1.3(4)×1013 a and transforms into 123Sb without significantly affecting either element's atomic weight even over geological time. The major isotopes 128Te and 130Te have long half-lives of approximately 1024 a and 1021 a, respectively. These isotopes suffer double β– decay and are responsible for detectable xenon isotopic anomalies in old Te-bearing minerals.
The "g" annotation for Te arises from the presence of naturally occurring fission products found in fossil reactors at Gabon, south-west Africa.
SOURCE Atomic weights of the elements: Review 2000 by John R de Laeter et al. Pure Appl. Chem. 2003 (75) 683-800
© IUPAC 2003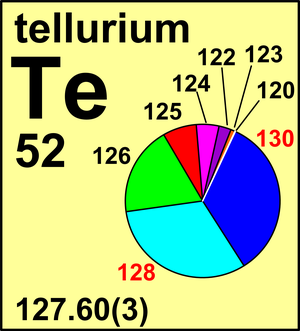 CIAAW